I made my first "hello world" Windows Mobile Phone application today. It's called ScrumCard. ScrumCard is a simple mobile phone application that simulates poker planning for Scrum. So if you forgot your poker planning cards, you can use this app to show your team your estimate of the story points.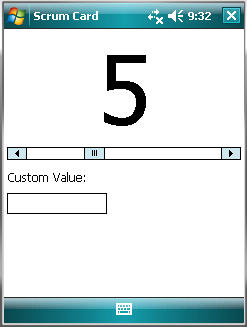 Using the horizontal scrollbar, you can choose a value between 1 and 89. Values belong to the Fibonacci sequence. If you want to enter a different value, you can use the text box labeled Custom Value.
If you want a more sophisticated and also free alternative for your Windows Mobile Phone, you can try AgileHand from ScrumDesk.